Company Relocation or Change service
BD Pack & Shift specialises in reliable Company Shifting services in Dhaka, Bangladesh. We assist in packing and moving all your Company furniture and accessories all over the Bangladesh. We build a strong reputation as a BD Pack & Shift Moving Company based with a high standard of Packing & Moving services in Bangladesh. We can move anything anywhere, regardless of its size, value and condition. We have professional packers and movers, so if you have delicate or difficult items requiring special care, we know exactly what to do. We pride ourselves on offering an efficient, effective and affordable service.
Whether you're moving your Company in Bangladesh, BD Pack & Shift offer a wide range of services to ensure your move is stress free. We are dedicated to our core principles, quality, excellence and workmanship. We proudly help more than 2000's of Companies move every year.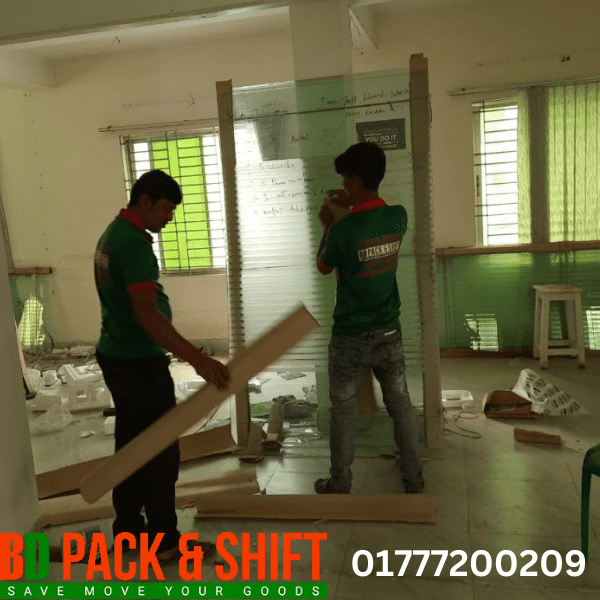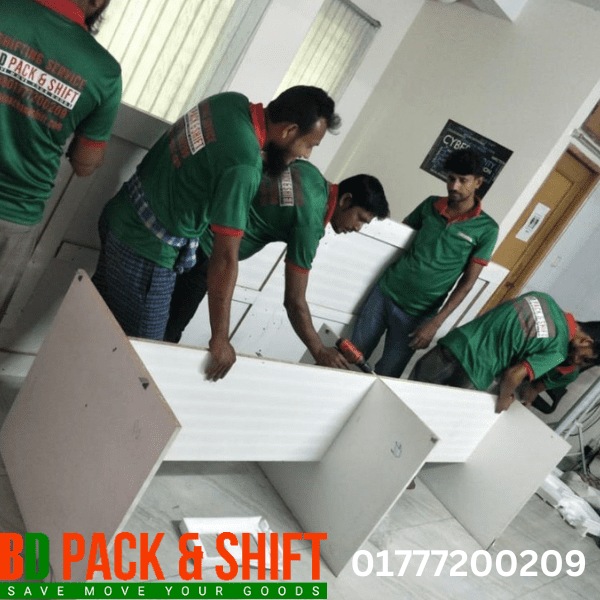 Our fully trained staff will ensure your move runs smoothly from start to finish. We've been in this business for many years and it's our uncompromising commitment to traditional values such as honesty, respect, courtesy and reliability that set us apart. We are dedicated to giving our customers the best value through great service at a price that will suit everyone's budget.
BD Pack & Shift has been serving Dhaka and the surrounding area for a long time now, and we have earned trust of many successful entrepreneurs. If you want affordable service from the best movers in Dhaka contact our customer service representatives, and we will find out which of our relocation options are best for you. We know there are many relocation services in the area catering to business owners, but if you choose us, you will get a customer experience you will not soon be forgetting!
আমরা ঢাকার সেরা অফিস স্থানান্তর পরিষেবা প্রদানকারী, ঢাকায় ব্যবসা, বাণিজ্যিক, এবং সরকারী অফিস মুভিং পরিষেবা প্রদান করে। আমাদের অফিস শিফট কোম্পানী গ্রাহক সেবা সেরা নিশ্চিত. আমরা উচ্চ প্রশিক্ষিত পেশাদার বিশেষ প্যাকিং বিশেষজ্ঞ, ডেডিকেটেড অফিস চলন্ত শ্রম আছে. BD Pack and Shift বাংলাদেশের সেরা এবং সবচেয়ে বড় চলমান কোম্পানি। আমরা গৃহস্থালি, অফিসহোল্ড এবং ব্যক্তিগত প্রভাবগুলি দেশের যে কোনও জায়গায় স্থানান্তরিত করি। আমাদের অফিস মুভিং সার্ভিসের মধ্যে রয়েছে: বাংলাদেশে বাণিজ্যিক ছোট থেকে বড় অফিস মুভ। বাংলাদেশে কর্পোরেট ছোট থেকে বড় অফিস স্থানান্তর। আমরা ব্যক্তি এবং পরিবারকে শীর্ষস্থানীয় স্থানান্তর পরিষেবা প্রদানের জন্য নিবেদিত। আমাদের পোর্টফোলিও শ্রেষ্ঠত্বের প্রতি আমাদের অঙ্গীকার প্রদর্শন করে।
Moving, whether it's a residence or a company, is a significant event that marks a new chapter. However, the process of relocation often brings along a mix of excitement and stress. In Dhaka, Bangladesh, where life moves at a vibrant pace, efficient and hassle-free relocation services are essential. This article presents BD Pack And Shift, a name synonymous with streamlined and professional relocation services in Dhaka.
The Essence of Relocation Services
Why Choose Professional Relocation Services?
Relocating, whether for a change of residence or to shift your company, involves more than just moving items from one place to another. It requires meticulous planning, proper packing, and seamless execution to ensure that everything arrives safely and in perfect order at the new destination. This is where professional relocation services like BD Pack And Shift step in, making the process smoother and stress-free.
Introducing BD Pack And Shift
BD Pack And Shift is not just a relocation service; it's a partner in your journey to a new beginning. With years of experience and a commitment to excellence, they have earned their reputation as a trusted name in the industry.
Comprehensive Relocation Solutions
Residential Relocation
Whether you're moving to a new apartment or a house, BD Pack And Shift offers tailored solutions for your residential relocation needs. They understand the emotional attachment to belongings and ensure each item is handled with care.
Corporate Relocation
Company relocations involve the intricate process of moving entire setups. BD Pack And Shift specializes in corporate relocations, providing a seamless transition that minimizes disruptions to your business operations.
The BD Pack And Shift Advantage
Expertise in Every Move
BD Pack And Shift's team comprises skilled professionals who are experts in the art of relocation. They have honed their skills to manage even the most complex moves with precision.
Customized Approach for Every Need
Recognizing that each relocation is unique, BD Pack And Shift offers personalized solutions. They listen to your requirements and design a plan that caters to your specific needs.
Making Your Move Seamless
Pre-Move Planning
A successful relocation begins with meticulous planning. BD Pack And Shift takes the time to understand the scope of the move, creating a comprehensive plan that outlines every detail.
Efficient Packing and Handling
The packing process is crucial to the safety of your belongings. BD Pack And Shift employs expert packing techniques, ensuring that items are packed securely and transported with care.
Smooth Transition
The transition from one location to another can be stressful. BD Pack And Shift's efficient execution ensures that your items arrive on time and in perfect condition, helping you settle into your new space without a hitch.
Excellence in Relocation
BD Pack And Shift's commitment to excellence is evident in every move they undertake. Their dedication to quality, attention to detail, and customer-centric approach set them apart as leaders in the field of relocation services.
Conclusion
Relocating, whether it's your home or your company, is a significant step. BD Pack And Shift's professional and efficient relocation services ensure that this step is taken with confidence. Their expertise, personalized approach, and commitment to excellence make them the ideal partner in your journey to a new destination.
Frequently Asked Questions (FAQs)
What types of relocation services does BD Pack And Shift provide? BD Pack And Shift offers both residential and corporate relocation services, ensuring a seamless transition to your new destination.

How does BD Pack And Shift ensure the safety of belongings during relocation? BD Pack And Shift employs expert packing techniques and careful handling to ensure the safety of your belongings throughout the relocation process.

Can I get a customized relocation plan for my specific needs? Yes, BD Pack And Shift believes in tailoring their services to meet individual needs. They create personalized relocation plans to ensure a smooth and efficient move.

What areas does BD Pack And Shift serve within Dhaka, Bangladesh? BD Pack And Shift serves all areas within Dhaka, Bangladesh, providing their professional relocation services wherever needed.

How can I contact BD Pack And Shift to initiate a relocation? To initiate a relocation with BD Pack And Shift, you can reach out to them via their provided phone number (+8801777200209) or through their website. Their team will guide you through the process and ensure a stress-free move.